Now Offering Custom Meal Plans
Thinking about trying a new diet or lifestyle? Don't know how or where to start?
Under the guided supervision of a licensed naturopathic doctor receive a custom meal plan suited to your specific health condition, a new lifestyle change, or general improvement in your family's health and wellness.
Each meal plan has a weekly calendar (as seen above), a shopping list, and individual recipe cards with ingredients and step-by-step instructions for preparing and storing the food.
Choose from the following meal plan options or customize your own based on your food sensitivity results.
Ketogenic

Paleo

Low sugar/low glycemic

Vegan

Weight loss

Kid-friendly

Mediterranean

Low carb

Plant based
Hormone Balancing

PCOS

Thyroid Health

Low FODMAP

GUT healing

Anti-Candidia

Immunity Boosting

Anti-inflammatory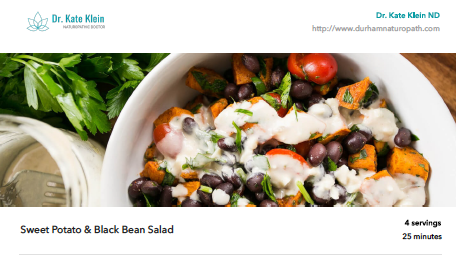 The Recipe CARD
Straight forward and easy to navigate

List all ingredients needed

Step-by-step instructions

Nutrition facts listed, including vitamin content and more

Food storage instructions listed
The Shopping List
Categorized foods

Simple to read

Portions are clearly stated

Accessible on your phone anytime making it easy to shop wherever and when ever
Book your initial naturopathic appointment today to discuss your concerns.